CASE STUDY #4324
How a major beverage manufacturer increased capacity with no loss in quality or consistency.
Ready To Drink Beverage Case Study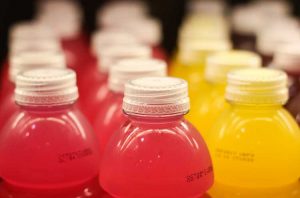 The Problem:
One of the world's largest beverage manufacturers needed to increase capacity in their hot-fill bottling lines to meet higher consumer demand.
Our Approach:
Semi-Bulk Systems designed a Process XStreamlining Solution that:
Utilized our patented Vacucam® Dynamic Beverage Batching Process
This state-of-the-art process accommodates total beverage mixing including minor dry ingredients and the unloading and mixing of liquid additives from drums or pails.
Incorporated our dry handling expertise to unload beverage mix powders (Sugar, Citric Acid, Erythritol) with an automated feed from multiple the Semi-Bulk Systems bulk bag unloaders
Conditioned dry ingredients for mixing using our patented Air Cone® technology.
Accommodated single pass, batch recycle and continuous steady-state processes for the Total Solution.
Provided flexibility to handle small volume (minor) ingredients within the large capacity mixing operation.
Leveled all operations to floor level – no platforms required.
The Results: We delivered Our Performance Guarantee that:
High capacity rates – can feed several bottling lines with minimum batch cycle times
Minimum batch times
Batch to batch consistency
Improved overall beverage mix quality. Maximized efficiency of the UHT process.
Low / No maintenance – Pump is only moving part.
Low energy consumption
Sugar – high capacity, using Semi-Bulk Systems unique powder handling / sugar liquefication processes.
Improved ergonomics with all operations at floor level – no platforms required
Pour on the profits by installing a state-of-the-art Semi-Bulk engineered solution, featuring our patented VACUCAM mixing technology. Contact us to determine if we can help improve your production capacity and quality.