Difficult powders conditioned for dependable flow and optimal discharge.
The Air-Cone® Hopper's ability to condition difficult powders makes it ideal for applications where dependable flow and total discharge are critical. Batch-to-batch variations due to material hold-back are virtually eliminated when it is used as a weigh hopper.
Since the conditioned powder is able to flow freely, the Air-Cone® Hopper is an excellent feed source for vacuum conveyors and for the VACUCAM® Ejector Mixer above.
Here's how the system works
An inner membrane completely covers the surface where product comes into contact with the cone. Low pressure "conditioning" air or inert gas is distributed by an air supply manifold and diffused through the membrane wall. When the dry ingredients are conditioned, they assume the properties of a liquid and can then flow smoothly and accurately into your manufacturing process. This aeration process eliminates some of the typical production problems with difficult powders such as bridging and rat holes.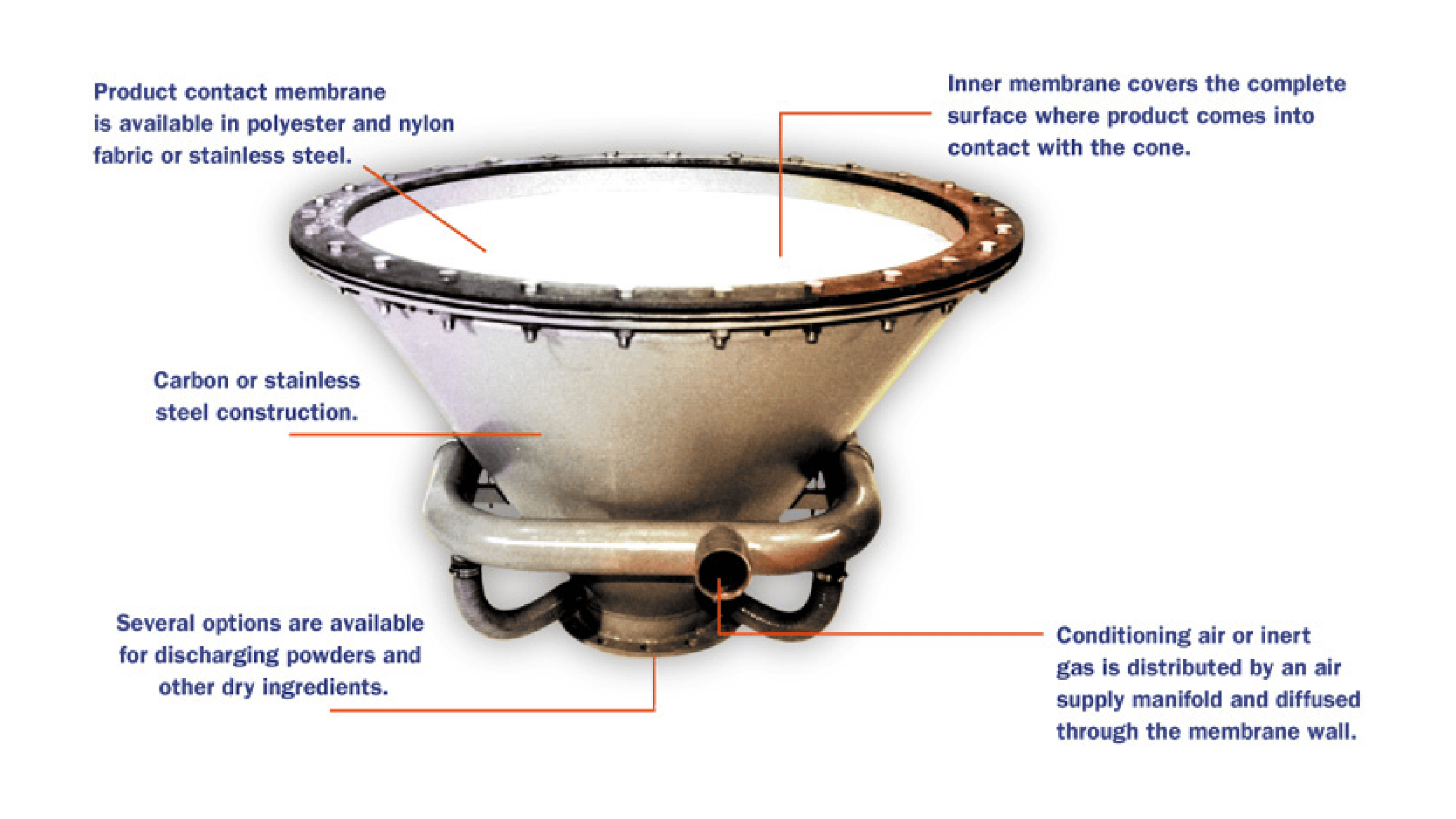 Process XStreamlining at Work
Semi-Bulk Systems is considered by many of the 'Fortune 50' food manufacturers to be their true partner in developing specific modular engineered process solutions involving dry ingredient handling and dry/liquid mixing systems for manufacturers of Dairy, Food, Beverage, Health & Beauty, Paint & Coatings, Paper, Power Generation, Chemical Manufacturing and more!
Do you need process improvement to increase efficiency, lower process costs,
save labor costs, and increase your bottom line? Our Process XStreamlingsm
solutions can help you accomplish these goals.