Dry ingredient processing and powder delivery for superior efficiency.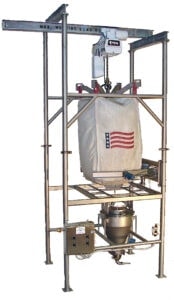 Semi-Bulk Systems multiple dry ingredient automation processes are designed to deliver powder from any package for shipment or from silo storage.  A single process may include multiple bulk bag unload stations, paper bag dump stations and silo delivery to a filter/receiver station.  A single modular Vacucam® Ejector Mixer system will convey and mix multiple ingredients on a sequential basis and deliver the finished slurry to a single batch tank or to any one of several batch tanks.
Customized Process Xstreamlining Solutions
Semi-Bulk Systems, Inc. is considered a true partner in developing specific processes customized to maximize competitive and profitability positions. Our patented processes; our modular skidded approach to provide a Total Solution for both dry side and dry/liquid mixing; and our focus on providing major benefits vs. traditional processes have revolutionized the markets we serve including Beverage, Dairy, Food, Health & Beauty, Paint & Coatings, Paper, Power Generation, Chemical Manufacturing and more!
Do you need process improvement to increase efficiency, lower process costs, save labor costs, and increase your bottom line? Our Process XStreamlingsm solutions can help you accomplish these goals.